I have always seen in movies or TV series that they order wine in restaurants, and they are almost always French wines. Like in the episode of Friends where Rachel tells her dad that she is pregnant, very funny scene by the way, they mention 2 French "Grand Cru" wines, 75 Lafite and 74 Latour. Here you have the video in case you want to remember and laugh a bit.
But there is nothing strange in this case, although the vineyard originated in the current territory of Armenia according to historians, nowadays the cradle of wine is the European Union and the United Kingdom. The world's wine production and consumption are mainly in that region. Among these, France is a particular case that has marked the industry throughout its history.
France is the second largest wine producer in the world.
For example, in terms of production, according to the "Organisation International de la Vigne et du vin" (OIV), in 2020 France was the second largest wine producer in the world after Italy with 46.6 million hectolitres. France represents approximately 20% of the world production and 11% of the vineyards planted for wine in the world, "incroyable"!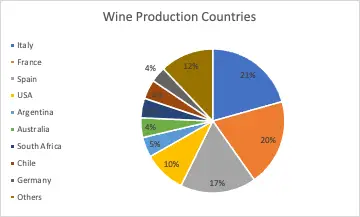 How many different wines does France produce?
As I said in another article, the French have a heart of cheese and wine in their veins. It is estimated that the country produces more than 3,240 different wines through 363 AOP and 74 IGP until 2018 according to "Institut National de l'Origine et de la Qualite" (INAO). Of these, 75% are still wines and most of them are red wines (55%), white wines (26%) and rosé wines (19%). 
This represents barely 3% of the agricultural surface of the country, but in value it represents up to 15% of the value produced by the agricultural sector. According to Intervin, here is the link if you want to check it out.
Per capita consumption in France is decreasing year after year.
Despite being the leader in wine production, France consumed 6.44 litres per person of pure alcohol from wine in 2019 according to Our World in Data, here is the link if you want to check it out. That is about 53,67 litres of wine, this figure may vary, as "Our World in Data" estimated the amount of alcohol per bottle of wine at 12% of the volume. Still, historical consumption due to the downward trend. 
France in second place for wine consumption in the world
Despite the above, in 2021 France together with Italy and the United States will continue to be the countries with the highest wine consumption. USA with 33, France with 24,7 and Italy with 24,5 million hectolitres per year, followed by Germany and U.K. According to (OIV).
How is wine classified in France?
In the European Union and therefore in France, wine is classified as follows:
AOP wine : "Appellation d'origine protégée".
IGP wine : "Protected Geographical Indication".
VSIG wine : "Vin sans indication géographique", which in France would be called "Vin de France" and may or may not have an indication of the grape and the year but cannot indicate the provenance. This is the official website of the "Association Nationale Interprofessionnelle Représentant la dénomination Vin de France". 
Despite this major classification at European level, within the French territory, there are wine classifications that developed over time since the end of the 19th century as a way of organising winegrowers within their own region. For this, the French created the term "Cru" which refers to a higher level of wine where in theory its quality is respected by the producers and recognised nationally and internationally. 
There are two ways to organise it, first the Bordeaux way, which directly classifies the wine estate, and second, like the rest of the wine regions of France which classifies the whole territory, i.e., two or more vineyards could obtain the category if they are located within the territory. 
In any case, the historical classification of the country is interrelated with the European classification, since to belong to one of the classifications, certain specifications must be respected. And it is not unusual to find that the Grand Cru wines are at the same time the ones with the AOP or IGP label at European level. If you want to know more about what is AOP or IGP, in the article France is a cheese producing country par excellence we explain you what these labels mean, although the article talks about cheeses, in any case it can be applied to wines as well.
Wine classification in Bordeaux
Bordeaux has 5 different classifications, which are as follows: 
A. "Classement de 1855" (Link):
which includes 60 red wines and 27 white "liquoreux" wines. Interesting fact is that this classification was the first one in the region and in France, that is why it is named after the year in which it was created by order of Napoleon III.
Classification for red wines. 

"Premiers grands crus Classé", We will mention only the 5 vineyards that are in this category

Châteaux Haut-Brion.
Châteaux Lafite-Rothschild.
Châteaux Margaux.
Châteaux Latour.
Châteaux Mouton-Rothschild. 

"Deuxièmes grands crus Classé ", with 14 wines.
"Troisièmes grands crus Classé", has 14 wines.
"Quatrièmes grands crus Classé", 10 wines.
"Cinquièmes grands crus Classé", 18 wines.

Classification for white wines.

"Premier Cru supérieur", 1 wine in this classification.
"Premier Cru" 11 wines in this classification.
"Deuxièmes Crus", 15 wines in this classification.
B. "Crus bourgeois", (Link), between 240 to 260 different properties can be found. 
"Crus Bourgeois Exceptionnel"
"Cru Bourgeois Supérieur"

Château La Tour de By

"Cru Bourgeois"
C. "Crus artisans" (Link), within this category we find 36 wines. This category is reviewed every 5 years.
D. "Saint-Émilion" (Link), this category is reviewed every 10 years.
"Premiers Grands Crus Classés A", 4 wines in this category.

Châteaux Angelus
Châteaux Ausone
Châteaux Cheval-Blanc
Châteaux Pavie

"Premiers Grands Crus Classés B", 14 wines in this category.
"Grand cru classé", 60 wines in this category.
E. "Graves", (Link) has 16 crus classés. 
"Cru classé"
Wine classification in Burgundy
"Grand Cru", 33 AOC. 
"Premier Cru", 9 AOCs spread over 640 "clima" (parcels). 
"Villages", 35 AOC. Regional, 7 AOC
Wine classification in Provence
"Cru Classé", including 18 classified wines. 
Wine classification in Alsace
"Grand Cru": In the region, there is only one classification, and it has 51 Grand Crus that fall into this category. For more information on the wines of Alsace, here is the link.
Wine classification in Champagne
Within the Champagne region there are 319 "Crus" which will be classified according to the following list.
"Grands Crus", 14% of Crus wines are classified in this category. 
"Premiers Crus", 17,6% of crus wines are classified in this category. 
"Crus", 68,4% of crus wines are classified in this category. 
In addition to this classification by origin and quality, wines can also be classified by their physical characteristics, the big families are still wines, effervescent wines, and mutated wines. 
To the casks!