As we have already mentioned in other articles, France has an etiquette of how to eat each of its cheeses and Raclette cheese is no exception. With this article we want to describe how to eat this French delicacy.
Personally, I prefer melted cheeses, so after writing so much about Raclette de Savoie IGP cheese to pass on everything I have learned, I have been so eager to eat it that I have already gone to the nearest cheese monger to buy some cheese before winter sets in, I say this because I am writing this article at the end of March.
In case you don't know what Raclette de Savoie IGP cheese is, here is the link to the article where we tell you about its history, the region of France where it is made and how it is produced (Everything you need to know about French Raclette cheese). However, officially, according to the "Institute national de l'origine et de la qualite"…
Raclette de Savoie PGI cheese is a raw cow's milk cheese, uncooked pressed. Its body is soft and melting, yellowish white in color. It is made in molds 30 cm in diameter, 7 cm high and weighs 6 kg. The skin is smooth, yellowish to orange in color. Its flavor is balanced and typical with a milky aroma.
The incredible thing about this cheese is that it has managed to give its name also to the dish that is usually eaten in France during the winter, thanks to the machine that also bears its name. This dish is usually made with Raclette cheese, which is great for melting because it does not release fat when it melts.
It is worth mentioning that in addition to the traditional method of eating it with the Raclette machine, it can be eaten melted in other ways such as fondue and even cold.
What is the taste of Raclette de Savoie IGP cheese?
It is a soft and melt-in-the-mouth cheese. Taste balanced and unique. All the "savoir faire" when making the cheese results in a cheese with fruity, vegetable, smoked or even spicy notes. 
How is Raclette de Savoie PGI cheese served?
As with many foods, Raclette cheese releases its flavors and aromas perfectly at room temperature, which is why we recommend removing it from the refrigerator at least one hour before serving. 
Once the Raclette de Savoie IGP cheese has come to room temperature, you can enjoy it on a good baguette or a loaf of bread with a good slice of prosciutto. 
The milky and slightly acid taste of Raclette de Savoie IGP cheese makes it perfect for pairing with fruit. These can be apples, pears, white grapes, figs, apricots, sultanas or dried dates, hazelnuts, walnuts or even almonds. 
I personally prefer to eat it the traditional way, in the Raclette dish. You have to choose potatoes, charcuterie, French pickles and green salad.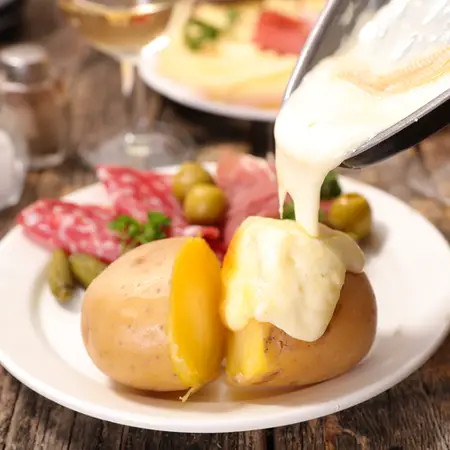 Regarding the potatoes you should choose hard potatoes, not powdery and you can consider between 2 to 4 per person depending on the size of the potatoes and the appetite of the guests. Regarding the star ingredient, the Raclette cheese, 200 grams of cheese per person if they are average eaters, reduce by 100 grams or increase by 100 grams if they are small or big eaters respectively. Although in the Raclette cheese articles we have talked about Raclette de Savoie IGP cheese, which is sold "nature" according to the purists, you can find various flavors on the market, such as smoked or spiced, and the price varies, depending on your budget and taste. The third main participant is the charcuterie, choose 4-5 different types in thin slices. Some people also use vegetables such as peppers, mushrooms, tomatoes, and zucchinis which can be grilled on the Raclette. 
Although this is the traditional way to make a raclette dinner, there are some variations that instead of charcuterie you can use seafood such as salmon, smoked salmon, shrimps, white fish such as cod, in the end according to your taste and that of your guests.
Regarding the wines, the locals recommend pairing it with wines from the region, young wines with fruity aromas, such as, for example:
Roussette
Chautagne
Chignin Bergeron
Or, alternatively, white wines from the neighboring departments, for example:
Saint-Joseph
Crozes-Hermitage
For the red wines always with fruity aromas. The locals recommend Gamay et Mondeuse vines which can be paired well with charcuterie and Raclette de Savoie IGP cheese. Here is a short list of other wines you can use:
Juliennes
Saint-Amour
Brouilly
Volnay premier cru Les Caillerets
Saint-Véran
Bourgueil
Saint-Nicolas de Bourgueil
Can Raclette cheese be eaten raw?
Raclette cheese has the particularity that it can be eaten cold (raw) without cooking or melting it. 
However, it is quite normal to ask this question, as most of us have eaten it melted. Raw cheese can always be eaten on baguette or bread, as well as in salads. 
Is the skin of Raclette cheese eaten?
Like many French cheeses, the rind is eaten with the rest of the cheese body. The rind has important flavors and aromas as salt is applied to it during the more than 2 months of ripening during which it develops living organisms that allow the cheese to mature.
Unlike other cheeses, the skin of the Raclette cheese melts perfectly together with the body allowing you to eat it on your favorite piece of baguette or potatoes.
However, if you don't want to eat it, it's not a problem, we just recommend you remove it from your plate once you have served yourself a slice.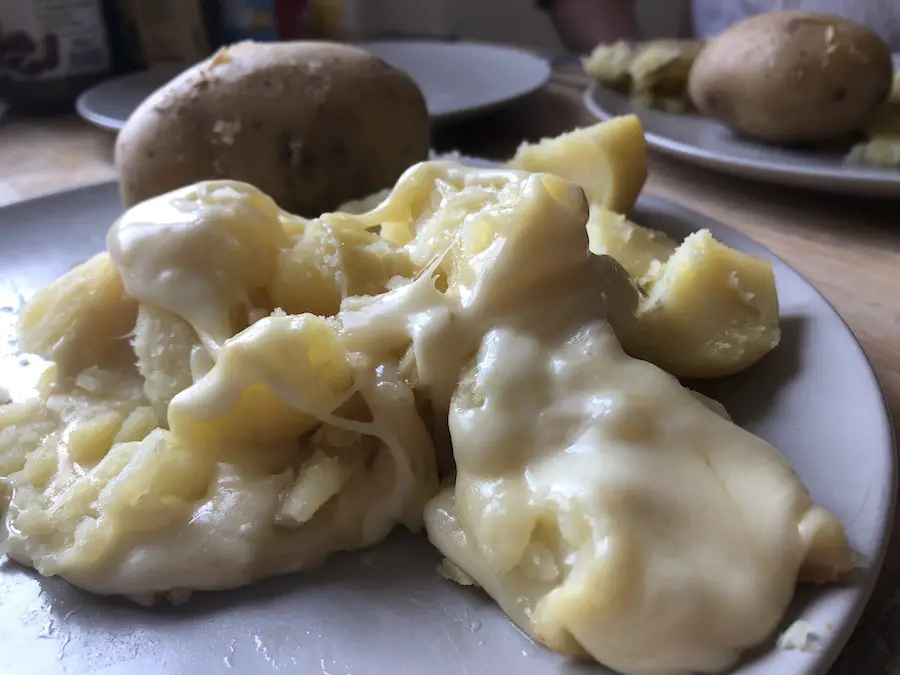 How to preserve Raclette de Savoie PGI cheese?
It should always be kept in its original paper or wrapped in plastic wrap. It should be stored between 4º and 8º Celsius (39º and 46º Fahrenheit) and can be kept for up to 2 to 3 weeks in the refrigerator. It can also be frozen for up to 2 months in plastic food wrap or freezer bags. 
When is the ideal time to eat Raclette de Savoie PGI cheese?
Raclette de Savoie PGI cheese is best consumed from November to April.
However, Raclette cheese purists say that Raclette cheese can be eaten all year round, melted, or cold. Most French people eat it during the autumn and winter season. It is commonly consumed by melting it with a Raclette machine, accompanied by charcuterie and potatoes, above in the article we tell you how you can prepare a great Raclette dinner.
How much lactose is in Raclette de Savoie PGI cheese?
Good news for lactose intolerant people, its presence is minimal which allows you to consume it with peace of mind. According to the "Association Française des intolérants au lactose"…
Raclette de Savoie IGP cheese contains less than 0.1 grams of lactose per 100 grams of cheese. 
In short, Raclette de Savoie IGP cheese is a versatile cheese that you can taste however you really want, so make the most of it before winter sets in and buy it from your favorite cheese monger or supermarket. I recommend you try the different flavors and qualities and find your favorite. 
Bon appétit !