Milk in its solid form, i.e., cheese, is one of the most versatile foods known to man. It can be eaten raw or cooked, at breakfast, at lunch or dinner. It can be eaten in salads, as an appetizer, in the main course or after the main course. It is therefore not surprising that France, being the country of cheese par excellence, is so present in its everyday cooking that it has developed more than 1200 different varieties of cheeses, creams, and butters. You can read more about this in the article "France is a cheese country par excellence". 
One of the favorite ways for the French to consume cheese is by melting it. But how? When we talk about melted cheese, we are talking about all its presentations, we can think of any gratin dish like a tuna quiche for example, it can also be the case of dishes where the cheese is eaten specifically melted like the famous raclette or fondue, another option can also be baked cheese or even grilled, to finish with cheeses that are placed on pizzas or in pastas.
Why does cheese melt?
First, we must describe what milk is. It contains dissolved in water, fat, proteins called caseins and lactose. Our ancestors figured out, most likely by chance, that to preserve milk for a long time, it had to be turned into cheese. The way to produce cheese is by eliminating the liquid part of the milk as far as possible, this is achieved by producing curd, which is nothing more than the agglomeration of protein molecules, together with fat and lactose. This is achieved by the action of lactic ferments or rennet. In their basic form, all cheeses begin in this way, but what makes them different is the method used to produce the curd and the subsequent process. At the same time, the exact definition of cheese can be found in this article, " Classification of cheeses according to the French ".
Therefore, for a cheese to melt well, it must contain the correct proportion of fat and water to allow physical change and at the same time strong enough protein molecular bonds to obtain the consistency that we like so much, without separating into its phases.
Which French cheese is good for melting?
The ideal cheeses for melting are soft cheeses (pâte molle) and pressed cheeses (pâte pressée). However, the type of cheese you choose depends on the dish you want to prepare. 
What are the best French cheeses for gratin?
The perfect cheeses for gratins are cooked pressed cheeses (pâte pressée cuite) such as Comté PDO, Emmental français PGI, Gruyère PGI, Beaufort PDO, etc. 
If you are looking to delight your guests with a typical French dish such as a quiche or cake, these cheeses are ideal for au gratin. By gratin dishes we mean tuna quiche, salmon with broccoli, bacon with spinach, Lorraine, among others. In case it is a non-French dish like a delicious lasagna, you can add them as well and they will do just fine.
The reason why these are the cheeses of choice for au gratin is because of the strong protein bonds and their lower proportion of water compared to other cheeses, which results in a less fluid melting that allows them to form a layer that covers the dish and thus "seals" it for later browning, giving it a delicate caramelized aroma. 
Which French cheese is best for raclette?
In the case of a raclette, the cheese to use is Raclette de Savoie PGI. In How do the French eat Raclette? we show you how to make your own Raclette Party a complete success. By the way, if you want to vary the flavor and aroma experience a little, you can also use other pressed cheeses (pâte pressée). Some cheeses to experiment with to accompany your Raclette de Savoie PGI cheese are Abondance PDO or Morbier PDO.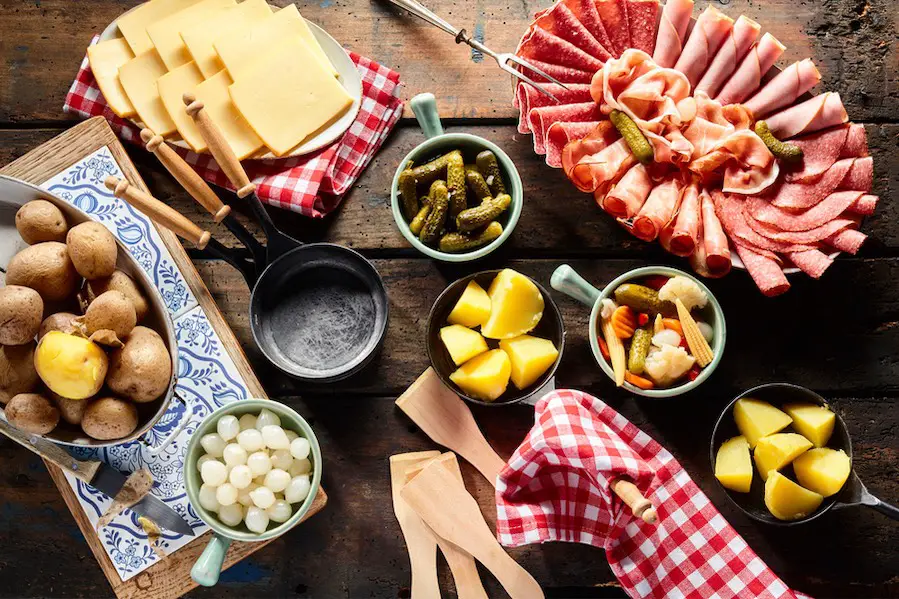 It is worth mentioning that the Raclette de Savoie PGI cheese is the ideal cheese for this dish as its recipe was developed for this purpose, a joint project between the producers of the cheese, industry stakeholders and the company Tefal (leading manufacturers of the Raclette appliance). More information can be found on the official website of the Raclette de Savoie PGI cheese.
Which French cheese is best for fondue?
For a great fondue, the cheeses of choice are cooked pressed cheeses (pâte pressée cuite). There are variations of recipes according to taste, some use only Comté PDO cheese (with three different ripening times), as in the recipe described in How do the French eat Comté cheese? But you can also find recipes with Mont d'Or PDO, Abondance PDO, Beaufort PDO, Tomme de Savoie PGI or Gruyère PGI and even mixtures of these. It's up to you to experiment.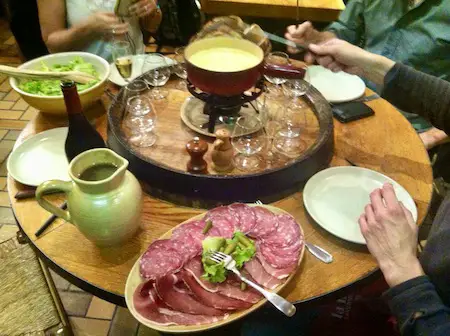 Which is the best French cheese for baking?
If you are looking for cheeses that you can melt in the oven to eat as a main dish or as an appetizer with toasted bread or nachos, as a rule, the best cheeses for baking are soft cheeses (pâte molle) and uncooked pressed cheeses (pâte pressée non cuite).
Of these cheeses, I can mention Camembert PDO, which you can enjoy as a starter as Camembert Rôti for any gathering of friends. Also, Reblochon de Savoie PDO cheese in the dish Tartiflette, if you haven't tried it yet, I recommend you try it as soon as possible, it is a dish that you can enjoy either as a dish of the week or to delight your guests at a dinner party at home. 
Other cheeses perfect for baking are the Morbier DOP which also has its own specific dish called the Morbiflette and the Mont d'Or DOP, which can be the main dish accompanied by potatoes and French charcuterie. A real delight.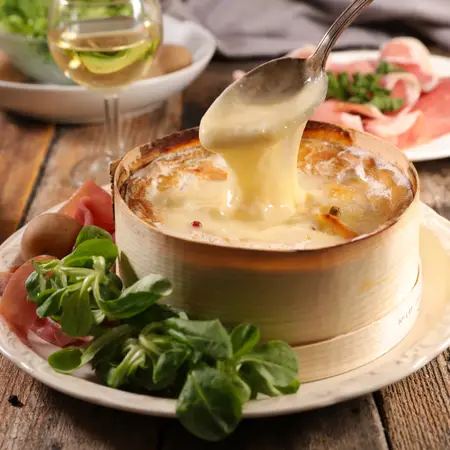 What kind of French cheese doesn't melt?
For a cheese to melt perfectly, it must have the ideal proportion of fat, water and protein, so fresh cheeses will not achieve this goal. Cheeses that do not melt but are perfect for grilling or broiling are most commonly cheeses made from goat's or sheep's milk. 
A finger-licking pizza recipe is with goat's cheese, cream, Gruyere PGI, honey and rosemary, just delicious.
Which is the best French melting cheese for sandwiches?
All the melting cheeses mentioned above whether pressed or soft, are ideal for sandwiches, either as a main ingredient or as an accompaniment. 
Let your imagination run wild. I leave you a link with some recipes to inspire you. Fromagefromeurope.com
Ready to enter the world of melted cheese?
Bon appétit!